Episodes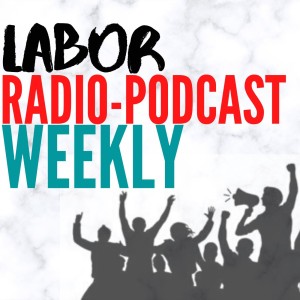 Friday Sep 15, 2023
Friday Sep 15, 2023
Organizing the South and why it matters, on Solidarity Works: A Podcast From The
United Steelworkers.
Then, from The Valley Labor Report, what labor councils are and why they're important, with Nashville Central Labor Council president Vonda McDaniel.
Next, we go to Australia, where the Solidarity Breakfast podcast brings us a voice from the Melbourne Uni strike.
And in our final segment today, Save WVU; the Working People podcast talks with students and organizers at West Virginia University, which recently announced plans to dramatically cut academic programs and jobs in the coming year.
Please help us build sonic solidarity by clicking on the share button below.

Highlights from labor radio and podcast shows around the country, part of the national Labor Radio Podcast Network of shows focusing on working people's issues and concerns.
#LaborRadioPod @AFLCIO @steelworkers @LaborReporters @3CRsolidarity @WorkingPod

Edited by Patrick Dixon, produced by Chris Garlock; social media guru Mr. Harold Phillips.