Episodes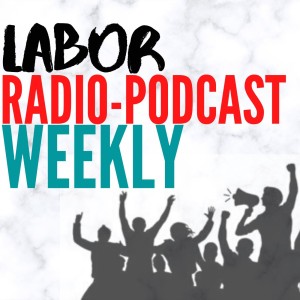 Friday Feb 19, 2021
Friday Feb 19, 2021
The Labor Radio Podcast Network's Weekly Wednesday Livestream features interviews with labor leaders, rank-and-filers and experts about current labor issues. Network members take turns co-hosting the show, which airs Wednesdays at 7p EST and is available on Facebook and YouTube.
Guests for February 17th, 2021 of LRPN Livestream included Josh Brewer (Lead organizer for RWDSU, BAmazonUnion) and Wayne Blanchard (UAW 2B Ohio and Indiana Regional Director).
LRPN Co-Hosts: Mark Gevaart (My Labor Radio) and David Story (Valley Labor Report)
Topics Discussed:
Organizing Amazon in Alabama
The size of the UAW in the US & Region 2B
The diversity of UAW represented workers
Why are politics so important for Union members to be involved in? 
Why do we give back to our communities, donating time serving, mentoring, fundraising?
This is an excerpt of the full show.

Produced by Chris Garlock (Union City Radio); Producer, engineer, and editor is Evan Matthew Papp (Empathy Media Lab). 
Additional Links
Labor History in 2 - February 17, 1936 Rubber workers sat down in Akron, Ohio