Episodes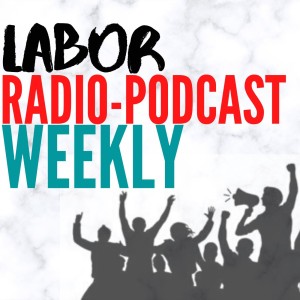 Saturday Aug 12, 2023
Saturday Aug 12, 2023
The Teamsters deal, WGA rallies in Chicago, education bridges the divide between
Jews and Arabs, and a female lineman in Canada: reports from the Working Voices radio show, which airs weekly on KPFK in Los Angeles; The Workers' Mic, a live, weekly radio show from WGN in Chicago; the Union Talk podcast from the American Federation of Teachers; and from Power Line Podcast, a collection of stories from line workers around the world.
Our final segment is from Labor History in 2:00, a partnership between the Illinois Labor History Society and The Rick Smith Show, a labor-themed radio show out of Pennsylvania

Please help us build sonic solidarity by clicking on the share button below.

Highlights from labor radio and podcast shows around the country, part of the national Labor Radio Podcast Network of shows focusing on working people's issues and concerns.
#LaborRadioPod @AFLCIO @coalition_labor @aftunion @powerlinepodcast @ILLaborHistory

Edited/produced by Chris Garlock; social media guru Mr. Harold Phillips.