Episodes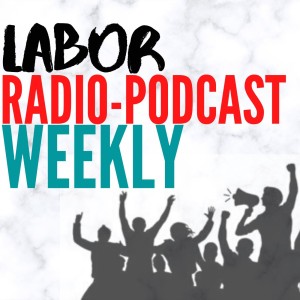 Saturday Jul 29, 2023
Saturday Jul 29, 2023
On today's show, UPS workers in San Francisco talk to WorkWeek Radio about
their contract issues. On the Green & Red podcast: Summertime rolls, it's too damn hot and the bosses are ripping us off! Bob and Scott riff and rant on strikes galore. Then on Labor Radio on KBOO FM, Michael is joined by his mother Ruth Bennett to discuss the WGA strike. On the ILO Future of Work podcast: Does AI threaten decent work? And in our final segment The Radical Songbook host Michael Funke makes the most of his chance to ask Nike founder Phil Knight about child labor.

Please help us build sonic solidarity by clicking on the share button below.

Highlights from labor radio and podcast shows around the country, part of the national Labor Radio Podcast Network of shows focusing on working people's issues and concerns.
#LaborRadioPod @AFLCIO @labormedianow @PodcastGreenRed @kboo @ilo

Edited by Patrick Dixon, produced by Chris Garlock; social media guru Mr. Harold Phillips.