Episodes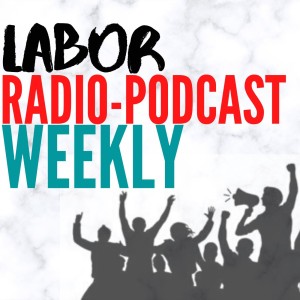 Friday Jul 14, 2023
Friday Jul 14, 2023
With just days left before the expiration of the contract covering some 340,000
UPS workers, the Roswell Hub podcast reports on what's going on and what to do if the Teamsters strike
The Speaking of Work podcast has been on an extended hiatus but it's on the way back, reports host and producer John McKerley. Today we've got a clip from a short podcast he did on the picket line at Starbucks in Iowa City.
What are the unique challenges of children in the foster system and how can we support these students in our schools? A deep dive by the OEA Grow podcast, from the Oregon Education Association.

In our final segment, Thomas Castillo discusses his book Working in the Magic City on the Working History podcast; Castillo's book traces Miami's working-class history from World War I to the mid-1930s.
Our bonus track today is from Labor History in 2:00, where we'll hear about the day municipal workers in Cleveland, Louisville and Philadelphia walked off the job.
Please help us build sonic solidarity by clicking on the share button below.

Highlights from labor radio and podcast shows around the country, part of the national Labor Radio Podcast Network of shows focusing on working people's issues and concerns.
#LaborRadioPod @AFLCIO @oregoneducation @SouthernLaborSA @oliviacpaschal @AndersonDavidM

Edited by Patrick Dixon, produced by Chris Garlock; social media guru Mr. Harold Phillips.