Episodes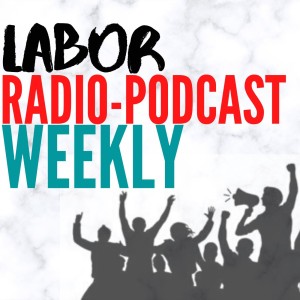 Friday Jul 21, 2023
Friday Jul 21, 2023
Four reports on the week-old strike by 160,000 actors: First up, from Building Bridges Radio, writers and actors fight back against AI. On the Work Stoppage podcast, class struggle in Hollywood. Then we have two local reports: on the Labor Heritage Power Hour -- formerly Your Rights At Work -- we'll hear from Elliott Bales a striking SAG-AFTRA member in the metro DC area; then we'll head to the Midwest, where the Heartland Labor Forum talks with Shelley Waggener, President of the SAG-AFTRA Local in Missouri.
Bonus track: The Crazy Eights, on Labor History in 2:00.

Please help us build sonic solidarity by clicking on the share button below.

Highlights from labor radio and podcast shows around the country, part of the national Labor Radio Podcast Network of shows focusing on working people's issues and concerns.
#LaborRadioPod @AFLCIO @bbridgesradio @WorkStoppagePod @LaborHeritage1 @Heartland_Labor

Edited by Patrick Dixon, produced by Chris Garlock; social media guru Mr. Harold Phillips.